Oh how adorable is this?
One player takes on the role of the BrickMaster. His job is to create, using construction blocks, a variety of dungeon rooms in which the game will take place, and creatures to inhabit them. Ideally these rooms will be modular so they can be added to the table one at a time as players enter them or get sight of them.
Oh yes - lego dungeons and dragons. Wah! Check out the wizard's lego owl!
Awesome lewt: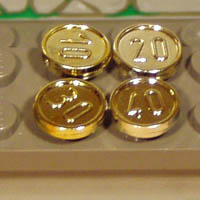 Too cool for school, that.
(Thanks, Wandring_Soul!)